Choosing the Right Writing Tablet for Your Child's Age and Skill Level
In the ever-evolving landscape of children's educational and entertainment devices, finding the perfect writing tablet can be a game-changer for both parents and young learners. It's not just about keeping your child engaged; it's about nurturing their creativity, enhancing their learning, and ensuring that the device can withstand the energetic curiosity of little hands. When it comes to such a versatile and essential tool, HOMESTEC's AstroDraw LCD writing tablet shines brightly as a top choice. Let's embark on a journey to explore why AstroDraw is the perfect match for your child's age and skill level.
AstroDraw: A Voyage to the Stars
Imagine a tablet that not only opens the door to creativity but also takes your child on an interstellar adventure. AstroDraw does just that with its captivating space-themed design. It's not merely a writing tablet; it's a gateway to a world of possibilities. Whether you're planning for a long road trip, a serene airplane journey, or special occasions like birthdays, Christmas, Thanksgiving, or Easter, AstroDraw is a fantastic companion that will ignite your child's imagination.
Education Meets Excitement
AstroDraw isn't content with just being entertaining; it's an educational powerhouse. With a unique handle design, vibrant colored lines, and letters and numbers discreetly printed on the back, this tablet is tailored for children aged 2 to 7 years old. It's not just a device; it's an inspiration for your child's curiosity and a catalyst for learning.
User-Friendly and Secure
When it comes to children's electronic devices, simplicity and safety are paramount. AstroDraw scores high in both these aspects. Your child can effortlessly write, draw, scribble, or doodle using the included stylus, and you won't have to worry about the mess that often comes with crayons or markers. Cleaning up is a breeze with just one press of the erase button, instantly giving your child a fresh canvas. Moreover, the lock key ensures that your child's masterpiece remains preserved for as long as you wish.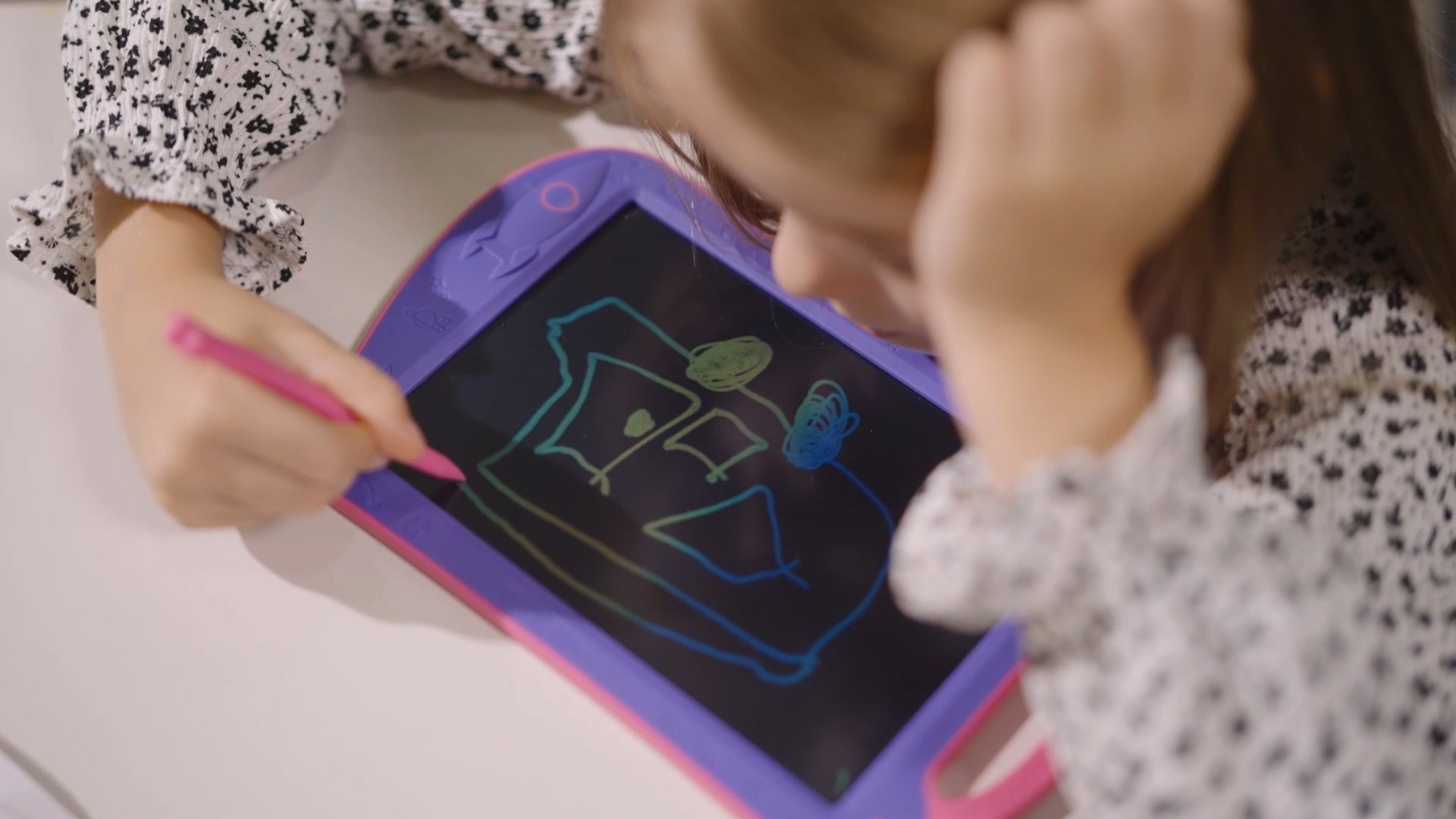 Built to Last, Ready to Roam
We all know that kids can be a handful, and their toys should be up for the challenge. AstroDraw is crafted from high-quality, durable plastic with rounded corners, making it resistant to falls and shocks. It's also waterproof, so you can breathe easy even if there are accidental spills. The tablet weighs a mere 130 grams, making it highly portable and an ideal companion for various occasions, including school, travel, airplanes, car rides, road trips, and outdoor escapades.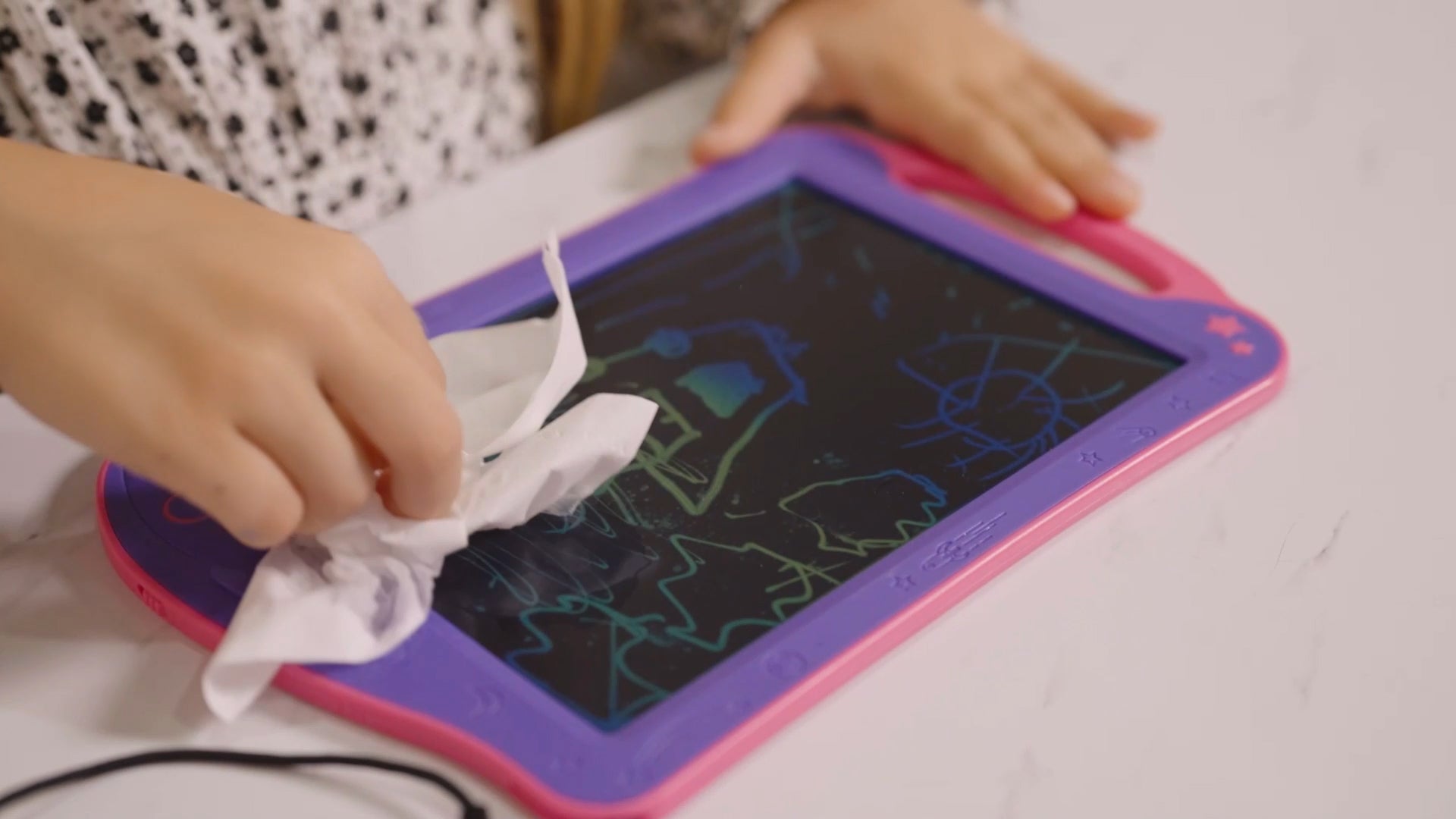 When it comes to selecting the ideal writing tablet for your child's age and skill level, HOMESTEC's AstroDraw rises above the rest. With its captivating space-themed design, educational prowess, user-friendly interface, and robust construction, it's the ultimate choice for young learners and aspiring artists. Present your child with the gift of boundless creativity and a love for learning with AstroDraw, where the universe of imagination knows no bounds.